#1
8 years ago
At the end of the last episode of Rodney's Adventures Rodney was left stranded on an island with only his portal gun for company. And a bunch of cloned animals. The animals teamed up to help Rodney to escape by rewiring the portal gun to send him to somewhere random.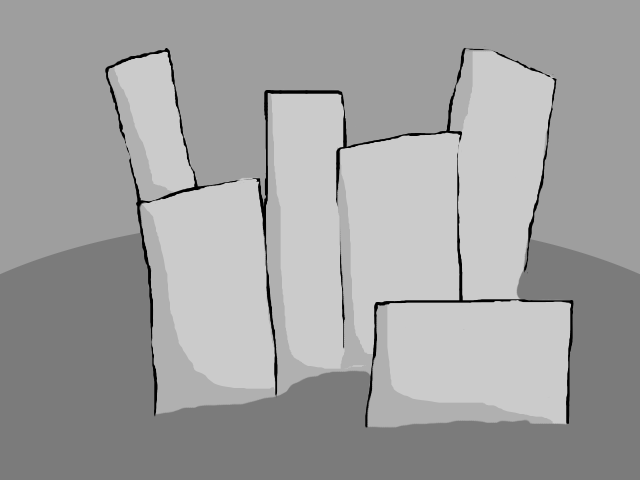 Surprisingly, this worked, and Rodney got transportaled to a city he'd never seen before. And for some reason there were no windows on any of the buildings. He began to wonder whether the inhabitants didn't need light or whether the artist was simply too lazy to bother to draw windows on a pointless background story image. It was probably the first one. The artist was a fantastic person, and would never do anything like that to him.
The world was surprisingly grey. And it faded to black.
A single word (though for unknown purposes shown 3 times) appeared in the sky.
Rodney was standing in the city. It seemed surprisingly empty, except for a weird slug grub in the street.
How this works:
Spoiler:
Show
It's just like before, suggest things that Rodney can do and I'll choose ones I like and make them happen. I know this is in spam but try not to kill my thread please. All the barrel rolling last time got annoying.
Also, this time there are no orange markers telling you what you can and can't do, so most things are possible. Oh, and the artwork will get better with time.
---
15th September 2004
0 Uploads
#2
8 years ago
[COLOR="Red"]I'll make it simple for this step.
Talk to the slug.[/COLOR]
---
#3
8 years ago
Killer Kyle;5391114 Talk to the slug.
Conversation:
Spoiler:
Show
SLUG: Glub glub bluglub RODNEY: I'm sorry, I don't understand you. Do you speak English? SLUG: Are you making fun of my speech impediment?! RODNEY: No... um... sorry... SLUG: I have half a mind to take you back to the hive to visit the queen, you horrid man! RODNEY: I'm sorry... So sorry. SLUG: Ah, don't worry about it. We don't get many new people here. RODNEY: Where is here exactly? SLUG: Townville! Where all dreams come true! Well... not all dreams. A specific type of dreams. RODNEY: What type? SLUG: Ah, now that would be telling!
The slug refuses to say any more. This feels like an RPG with limited conversation. And what did he mean by specific types of dreams?
Well, we could look around a little, or pay a visit to the hive. Sounds dangerous though.
---
#4
8 years ago
While standing deciding what to do next, Rodney noticed a piece of paper fluttering ominously in the breeze. How can paper can flutter ominously? This is strange. Anyway, he looks at the paper.
The plot thickens! This appears to be an evil city! Either that or it's a coincidence. It's probably nothing. No reason to get too scared about this, I'm sure there's a rational explanation for everything.
Maybe exploration would uncover more clues as to the mystery of Rodney's whereabouts.
---
#5
8 years ago
Put the slug in a bag then take HIM to the hive. Use it as a bargaining device, for something....
---
16th August 2008
0 Uploads
#6
8 years ago
more barrel rolls. and what did you do to his head?
---
10th August 2004
0 Uploads
#7
8 years ago
10th August 2004
0 Uploads
#8
8 years ago
#9
8 years ago
Holy shit Red(Meance, not the gross one), calm the fuck down! I'm still waiting for my slug in the bag idea first. GTFO noob.
---
#10
8 years ago
I drew the slug in a bag one straight after you suggested it... then got sidetracked with studying. I'll finish them up and post in a few minutes
---