#1
13 years ago
At the beginning of each and every day, Forrest Gump gets up and has some cereal (Momma always said it was healthy and good for your body).
He gets his runnin' shoes on and goes outside, he runs around the great town of Greenbow, Alabama.
Today he walked past a few vacationers (You know, people who come through these parts trying to get to somewhere else), and he saw that there was this kid and he looked awful cold see, so (figuring he was a Go-zillionaire and everything) he lent him his Flannel Jacket, which later went on to be popular in the great state of Seattle in the 80-90's, he waved goodbye to the Family.
He kept on running until he came upon your mother, this is how you were born (don't ask any questions).
He ran a little bit more and came upon a man trying to invent a new cookie, now figuring he was real popular with the people around these parts being a national celebrity, he decided to try and help the man with his cookie making venture.
He ping-ponged a huge chuck of chocolate for hours until it was into tiny little bits which the man called "Chocolate Chips", Forrest Gump just went on with his business, by this time Forrest Gump was a little tired, and he had to go you know what (I failed to mention the Dr. Peppers he drank before he started runnin').
So he went home but tripped on the Berlin Wall (He took the long way home for some more runnin', his momma always said runnin' is good for your body), then a bunch of people from both sides of this Berlin place kept greeting each other something bad.
Forrest kept on going until he had to swim across the Pacific, he had to destroy an entire fleet of Mongol Warships invading Japan in the process, he didn't even noticed and said sorry to Mr. Khan.
He eventually made his way up to Alaska, but he stepped on the Telegraph wire, Russia got pissed and forced America to buy it (which was apparently a lot cheaper than initially thought).
He ran down from Alaska to Seattle carving the path for the Alaskan Highway.
He accidentally injured a piano teacher by the name of James Doe, keeping Jimi Hendrix from getting Piano lessons (He had to get Gue-tar lessons instead, he later found out that nice young man turned into a real secsful guitar player).
He kept walking till he got to Illinois, where he helped put Al Capone in prison, but he didn't know it.
Eventually he finally made it back to Greenbow after about 4 hours of running, he decided he would practice Ping Pong skillz, but he needed a target.
So he went around town looking for something that he could break, he found a disco ball and practiced bouncing Ping Pong balls off of it till it broke, when it broke he found another, then another and another until Disco finally died, he later found out that he killed the Career of a whole lot of Disc-o bands.
But Forrest Gump was only half finished with his day.
To be continued?...
---
#2
13 years ago
it sucks having an attention span, spanning only 2 paragraphs, i feel that that would have been a good story if i could have read it......
---
#3
13 years ago
Forrest Gump can also read real good.
---
4th September 2004
0 Uploads
#4
13 years ago
Where's Bubba and Jen-neh.
---
#7
13 years ago
Jen-neh was a dirty whore. Forrest deserved better.
---
Sovereign002
Advanced Member
Adeptus Moderatus We purge with chain and bolter
105,915 XP
#8
13 years ago
Forrest is my daddy! :)
---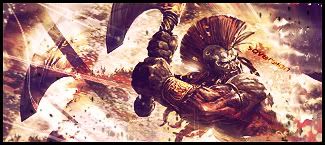 #10
13 years ago
SeinfeldRules;3993677Where's Bubba and Jen-neh.[/quote]

They both took a trip up to heaven with Momma.

[quote=Red]Did Forrest run up to 88mph and go back in time?
Forrest transcends time itself.
---