25th September 2006
0 Uploads
#1
12 years ago
as many of you may already know, at the end of the dark crusade campain, there was a short cinamatic of galaxy-scale conflict announced for 2007
this means that there will be a galaxy-scale map based campain for the next expantion... this is inevitably an expantion because i doubt they would come out with a whole new system that fast.
so, this galaxy-based map, good, or bad? I personally think its good if you conquer the contry-by country so that you can have more environments and a longer campain.
---
#2
12 years ago
Well right after DC was released, alot of people (including myself) believed that relic was going to release 2 more expansions (plenty of posts on the topic at the relic forums and here if you look). Eventally people came to the realization(spelling?) that DoW life span isn't long enough to suppose two more games. So people started thinking that the 2007 ending means either, (A) that prehaps some books would be released about the continuing story of the Blood Raven Space Marine Chapter, or (B) DoW2 will be released in 2007 (this has become the popular choice as of late).
Your idea is OK, i wouldn't mind a Star Wars: Empires at War type of playstyle for a expansion but, this would change DoW playstyle as it would involve epic battles instead of the strategic scrimishes that DoW is famous for, and also the Tyranid will not be in it (since relic stated many times that Tyranid will not be in it because of the DoW engine)which would just suck since they are one of the more popular races in 40K. So i would rather have a DoW 2 game released since Relic could redo the old DoW engine or get a new engine all together. This in turn would finally get those last missing races into the game and perhaps even get flying units and such into the game. Only problem i see with that is a 2007 release date isn't possible without sacraficing(again, spelling?) quality. Unless of course they have been working on it since after the original release. Just a thought though.
---
#3
12 years ago
Hi! I kinda just started playing and I was just wondering if this site I saw [COLOR=red]oloot.com[/COLOR] is for real. Can you really have someone play for you and power level your account? Thanks!
---
29th January 2005
0 Uploads
#4
12 years ago
DoW 2 with the Essence Engine from Company of Heroes would be awesome, imo. All the animations for units, cover system, and all around gorgeous engine. But a 2007 release date is too small of a window, unless they've been working on it for a while before (Some people hint that they could've been wokring on it around the same time as CoH was being developed).
If not that, it might be hinting at a new expansion with a larger campaign, possibly with space battles and a persistant multiplayer campaign.
---
#5
12 years ago
I was thinking about that. Them working on a DoW2 at the same time as CoH. What I don't want to see though is a SW:EAW style game play. Whilst it is ok, I much prefer the game how it is. One thing with DoW2 though, is they need to get everything together, add all the existing units, and make it as "canon"? as they possibly can. No made up crap, and no missing races. They need to throw in everything, and save the expansions for another game. Granted it is a good way to get money, but adding expansions for DoW2 is just going to have the DoW franchise dragging on and on and people will become bored with it.
---
4th September 2007
0 Uploads
#6
11 years ago
Thats what they are doing in halo3 they are just putting everything they missed into it.
---
29th January 2005
0 Uploads
#7
11 years ago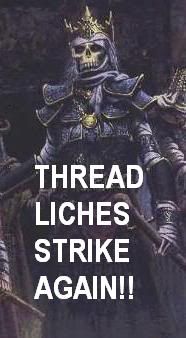 Yea, anyways, we're still waiting for this 2007. It's going to be a year soon since DC was released, and yet we've not been given much to chew on.
---
16th March 2004
0 Uploads
#8
11 years ago
well...all good things come to thoughs who wait...
---
[color=#000000][size=2][b][i]Heralds of the coming doom, Like the cry of the Raven, we are drawn, This oath of war and vengeance, On a blade of exalted iron sworn, With blood anointed swords