#1
12 years ago
I known most of you people for quite sometime now, although we all haven't ever really talked much about ourselves. So I decided to make this Thread specifically for the "Dawn of War Community" We really can't judge eachother and we've all had a lot of fun on the forums helping lost players and stating opinions on impossible happenings (.eg the "What if every Race in the 40K Universe invaded Earth :p ALL FUN!!) But I think this thread will get us to know a lot of us better Post here with the following info :deal: - Favourite Games
- Preffered mod types (.eg Race mods, Total Conversions ,Skins etc)
- Opinion on the goriness of games I'll start with, - Half Life 2, Counter Strike: Source, Dawn of War, Call of Duty series, MGS Series - Total Conversions and skins - I want the gore to be a realistic or at least reasonably kept to a slight minimum, too much of it sorta gets me irritated imagining a human body being able to carry 20 Tonnes of Blood in their small fleshy little bodies So there you have it.. Thats a basic run-down of me.. Fell Free to state anything else about yourselves and It's not necessary to post really PERSONAL info..
---
#2
12 years ago
- Tic Tac Toe and Scrabble - I liked Ash when he was working here - Hellraiser standards .. pools and fountains of blood with intestines hanging from peoples mouths and Limbs being severed and scattered everywhere and faces being worn as hats. Organs being played .. and Pianos ..
---
17th August 2007
0 Uploads
#3
12 years ago
this of course, joint ops typhoon rising, CNC generals series, halo series. i like mods its just that the originals are always better. although i like daemon hunters. I would like the kills to be more realsitic cause the falling down is getting kind of lame. like a guy gets hit my a nec warrior then part of his body disintergrates. or a guy explodes into pieces due to a rocket. (although this would be nice it would probably be then rated as an A game).
---
#4
12 years ago
crisissuit3;3998969i like mods
Yeah me to Ash was great, the legendary SSA, now Tycoon :bows: Not a mod now but files staff ... Oh you mean Modification ...the best one was the one where .. nope .. not that one ... err ... /Runs
---
Sovereign002
Advanced Member
Adeptus Moderatus We purge with chain and bolter
105,915 XP
#5
12 years ago
Well, not that I often posts here but:
Favourite games are: Oblivion, DoW (big surprise), Fear, ST: Bridge Commander, Metal Gear Solid and a few others.
Mods: Well usually mods that include new units, weapons, skins etc. Total conversions are fun too, but they really depend from game to game.
Goriness: There has to be blood, and a nice amount of it too. But what I find most important are bloodstains. For instance when you stab someone, I want to see him have bloodstain on his clothes and see your sword having blood on it.
---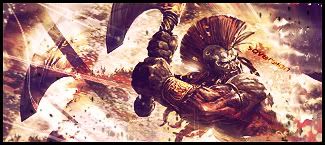 20th February 2006
0 Uploads
#6
12 years ago
My least favourite FPS game is FEAR, never got how to use the slow-mo properly, and the indoor environments all look too bland.
---
17th December 2005
0 Uploads
#7
12 years ago
Favorite Games: Warcraft III, Dawn of War, Unreal Tournament.
Mods: New Units, Weapons, skins, gameplay . . anything that expands content well.
Goriness: The More the Better. I can't get enough blood. If it were up to me, every game would have contrasted realistic blood effects, such as stab wounds and blood stains and blood physics, and hyperbole. Lots of Blood. Lot's of gore, I want to able to rip someone's intestines off and pull their head off with them.
---
24th October 2007
0 Uploads
#8
12 years ago
games:The unreal series will always b #1. CS SOurce, DoWDark Crusade,C&C series, Halo series (Halo wars, woot!) mods: Dont play em. Gore: Unreal level And just for flame sake I think an Unreal jugernaut could crush a space marine... 8o
---
17th December 2005
0 Uploads
#9
12 years ago
Who ever said they were wrestling?
---
25th November 2006
0 Uploads
#10
12 years ago
Favourite games. Any old school Rpg's and rts manly the Dow series and the Myth series. Mods: Steel legion and Daemonhunters. Mappack :Mappack Revolution Co'z I'm biased.=p Gorriness: Anything that has Lots of blood in it.(I'm a closet Vamp tell no one or I suck your blood)
---
Signature brought to you by Carl's Jr.