#1
11 years ago
Hello, Warhammer community, I use to have dreams of becoming a writer/ game designer. Never gonna happen. But, I came up with a cool universe that is similar to the warhammer universe before I ever heard of warhammer. I thought it would be cool to post some of the charactors and a brief overview of the story and see what you guys think of it and if maybe, just maybe it has some potential for something, maybe a mod for dawn of war or something cool. I realy like my creation and hope that you do to Brief overview of the universe: Basicaly the 3oth millinium is just around the corner, man has spread throughout most of the galaxy. We've been through several close calls with our own extinction, inluding the hundred year synthitic uprising, which was a time of great military advancment and death. During this time a lone hero rose to become mans salvation, the Azeral. During the next five hundred years man spread from planet to planet, having the Azeral keep the peace amongst the different nations. He has been endowed with the Rank of System Lord. Eventualy as we spread throughout the galaxy we encounter advanced races such as the Mor' Rosan, Hyperions, Jucati and The Order. Man, seen as a pleague by the Hyperions and Jucati, is declared a threat to their existence, and of course war insues. By now, the A5 or 5th generation Azeral, is our hand of destruction. He has grown legendary amongst other races and they two have begun building their version of a Sector Lord. Now we have The Procterate of Man and the Hyperion/ Jucati alliance. The Order come into the picture aswell as the Mor' Rosan later. Thats about it, prety simple. except their is a twist when the Mor'Rosan enter the picture but by now you are either bored or thinking what a rip off. So I'll go now...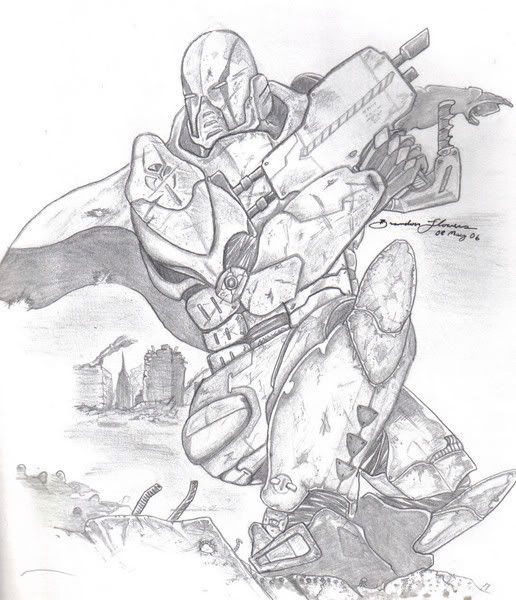 A1: A machine with the mind of a man permanetly uploaded into it. A mechanical marvel of man, 80% of his armor is made from the rare and almost industuctible metal Marandium. His body is made of synthetic muscle tissue and has several advantages over other soldiers including a Matter Stream Converter, witch stores almost anythings cellualr makeup in its memory cores and then materalizes it when ever he needs it. So he can have an unlimited amout of weapons.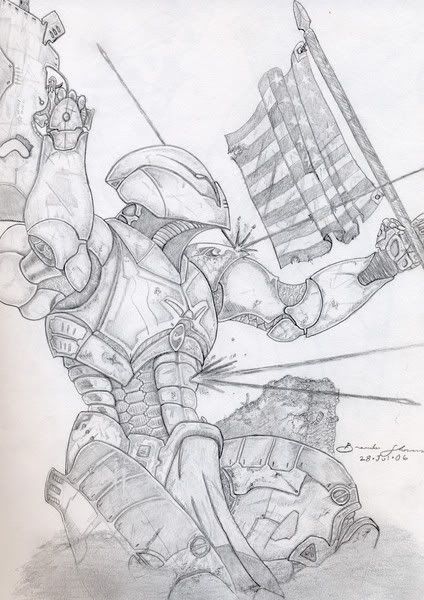 A5: The fifth Generation. Small changes for the 30th century model.
Sector Knight: The primary soldier of The Procterate of Man. Useing powered armor suits, they are quick, tough and live for war.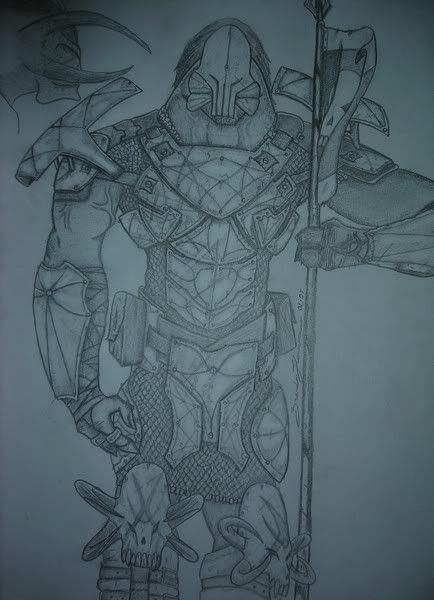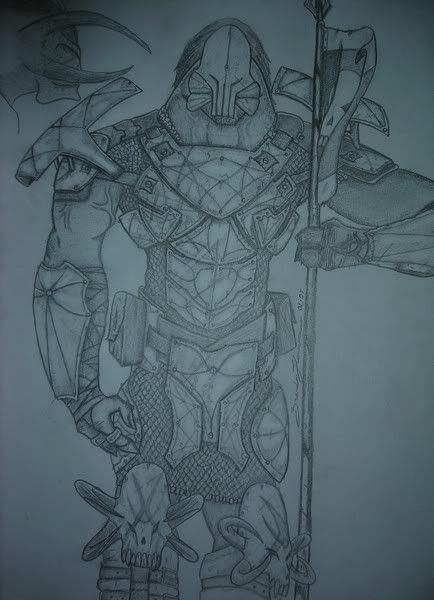 THe Hyperion: I guess you could say the Orks of my universe. Once a beast of burden they eventualy evoloved and become the dominate species of their planet. They geniuenly believe man is a threa to glactic peace.
The Jucati Empire: a race of conquers, their uneasy alliance with the Hyperions is solely intended to gain more territory.
The Order: No Human has ever seen the top of the Orders Hierarchy. All we know is that they are a race from anothe rgalaxy that has started creeping into our own. They are conquers that 're-educate' worlds. They are composed of many different species.
The Mor' Rosan: Maybe the oldest of the races. They are an isolated species that fiercly protect their borders. If they wished it, they could easily sweep through the galaxy with their advanced technology. Well, thatsa brief idea of what coulda been. I have more designs including vehicle and citys if anyone is interested. If not and you dont think this belongs here... I'll understand:bawl:
---
#2
11 years ago
coooooooooool!!!!!!! you are sooo good at drawing! i like it a lot. you should make a mod of it for dawn of war
---
8th August 2006
0 Uploads
#3
11 years ago
This genuinly seems like a good starting point for another sci-fi/fantasy game. I wonder what yould happen if you gave your idea to THQ or whoever as a game idea, they may even pay for it if they think its good enough. Its happened before - my mates Dad actualy designed the Space Marine terminators and got paid a bomb for it. "The Order" sounds like a reference to the game 'Freelancer' or the Coventant from Halo which is always good :). Nice drawings btw
---
26th March 2006
0 Uploads
#4
11 years ago
Seriously, are you a concept artist for a mod? There are plenty of mods clambering over each other to get a concept artist. Maybe you should check out the relic forums.
---
24th April 2007
0 Uploads
#5
11 years ago
very impressive, both the universe and the drawing skills
---
4th September 2007
0 Uploads
#6
11 years ago
There great really original i can see them as a starting point for a new universe for a game or a movie or anything!.I really like the drawings there well done and i really like the charactors for the races.:nodding::beer:
---
26th January 2006
0 Uploads
#7
11 years ago
Awesome, plain and simple, great fluff, great drawings...just great! See if you can get it to be more than a mod =)
-DIAB
---
#8
11 years ago
well, thanks for all the positive feedback. The idea of a mod for DOW realy interest me. So, It would be cool if you guys would help me build the game mechanics for a basic draft. Then, when I think I've got a good start I'll present it to a few mod teams. I've been thinking alot on how to make my idea fit with the DOW game and I think ive got a few good ideas. I'll start with the Protectorate of Man. To begin with, the Protectorate of Man is a league of human worlds, under the supervison of the Lord Marshal. Now, acording to this races history, back in the early twentyfifth century, the Earth population was in the 50 billions thanx to genetic discoveries that have trippled normal life expectancy. Man had colonized several worlds before that, but only the brightest where allowed to live there. Earth goverments attempt to enforce the resettlement of millions of humans from earth to their new worlds, However the goverments of this new worlds refuse to take what they consider the garbage of earth. This begins the Population Wars. Mankind sends several advanced AIs to force the new world goverments into submission. This goes on for several decades. Ironicaly the only thing that ended the Population wars was the Synthetic wars. The SWs began with the uprising of the AIs. Those supreme warmachines turned on their masters. So for a hundred years all of man was united under marshal law to end the threat of the Synthetics. After the Synthetic war, most of man had forgotten what it was like to be in a free goverment, and the Lord Marshals stayed in power. Now, in the 30th century, man has a new threat, the Hyperion/Jucati Alliance. Key things to keep in mind about the PoM: 1)AIs, are strictly forbidden. That means no robots in the PoM. 2) They rely on private corporations for weaponry, two in particular 3) They use a broad range of weapons depending on what weapons contract they have. The way I see the PoM working is that you start off with the basic grunt available, the Sector Knight. Then, when you reach tier 2, you have the option of buying one of two contracts. You can purchase from the Legendary heavy weapons industry the Juno Star Forge or the Ronin Corp., a new company that has made alot of news by ecorporating advance weaponry and stealth technology into its ground forces. My idea is that you have to choose a path kinda like the Tau. So if you get a contract with the JSF, you well rely on short to medium range brute force. If you go with the Ronin Corp. then you will have to use stealth and range to your advantage. But maybe you can purchase both but each is very expensive. Need some opinions on that one.. Here are the units available with the each contract:
The Juno Star Forge: The JSF became legendary not for ground forces but for ships. They built the massive Padora class warships which saved untold lives in the Synthetic Wars. The JSF is a heavy we
---
#9
11 years ago
Son of a bitch! Post of my last post was deleted... sory about that :( The JSF became legendary because of their massive shipyards. They designed and built the massive Pandora Class warships witch saved untold millions in the Synthetic Wars. They started making weapons and exossuits almost a hundred years ago and have made a name for themselves for bringing heavy fire power to the battlefield.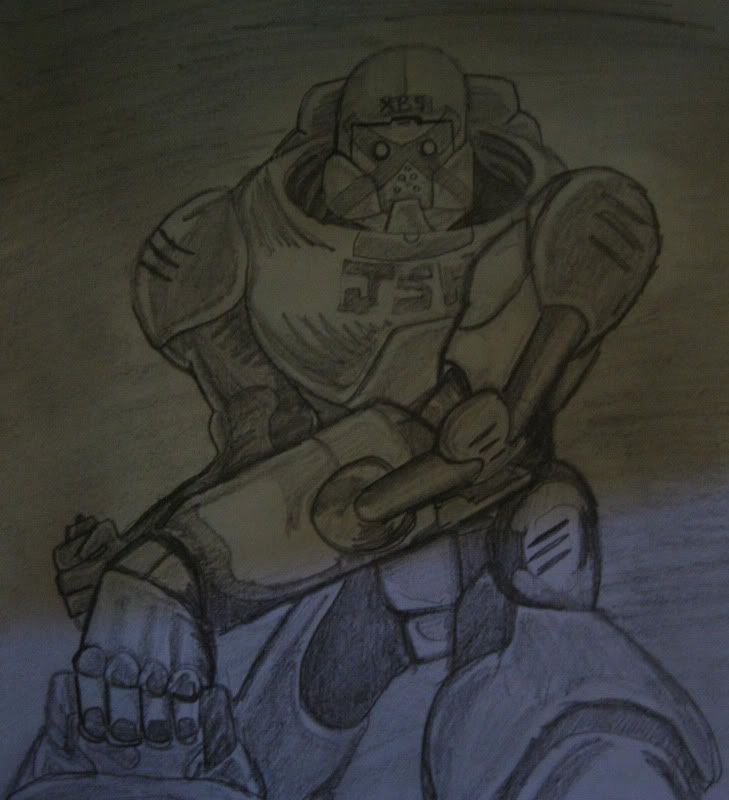 Bishop: JSFs answer to the Hyperion soldier. The Bishop is far more powerful than the ageing sector knight suits. Comes in squads of three with two additional slots. Can be upgraded with one of three heavy weapons. 1) Chain Blazer: a powerful 30mm cannon that rips enemy formations down at medium range. 2) Fire Rain: Destructive plasma flame thrower that engulfs and decimates infantry and buildings at a short range. 3) Anti-Matter Cannon: The infantry finally get their hands on the weapon that the Azreal has used for centuries. Turns vehicles and structures into molten metal at medium range.
Paladin: JSFs heavy weapons platform. Comes equipped with quad 120mm anti-matter hard shelled cannons and three barrel nose cannon for infantry suppression. (NO PIC) Dark Queen: JSFs most powerful unit. Designed for melee combat, the Dark Queen tears enemies asunder with her dual javelin blades. Is also equipped with powerful anti-matter cannon that can destroy most vehicles with one shot, but has a long recharge time. The Ronin corp. Is a new face in the weapons development business. They have already proven themselves however. When the Hyperion's began attacking colonies on the fringes of Protectorate space, the Ronin Corp. hired and equipped mercenaries to defend the colonist. Using the Ronin Corp's weaponry, the Mercenaries held off the invaders until the Protectorate could respond, earning the Ronin Corp a permenant spot in the Lord Marshals speed dial.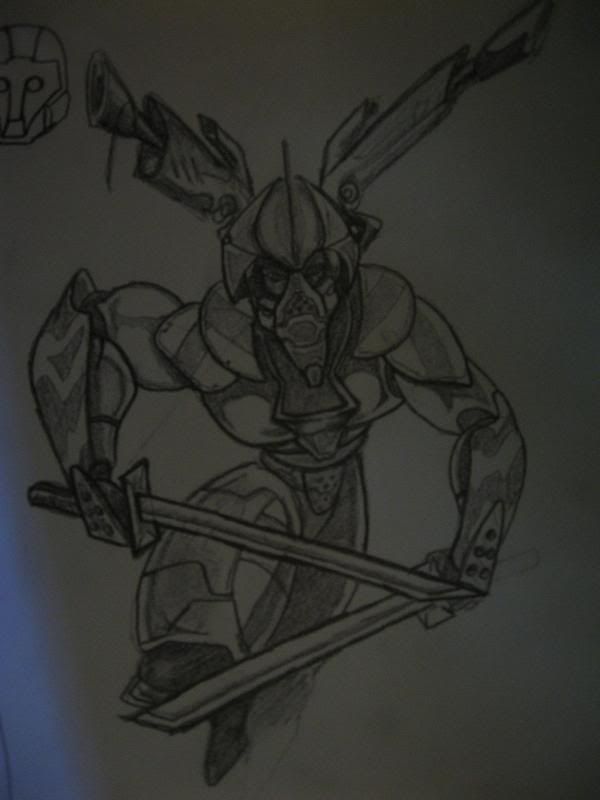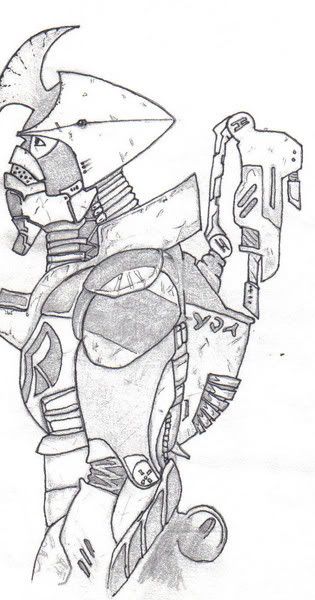 Silent Knight: Though equal in strength to the sector knight, the silent knight uses its cloaking field to sneak within melee range of its target, then using he's energy sword to pierce the joints of he's target the Silent knight can quickly kill off enemies before they know what happened. Also comes equipped with automated twin ion rifles that can target and attack enemies while the Silent Knight is engaged in melee combat.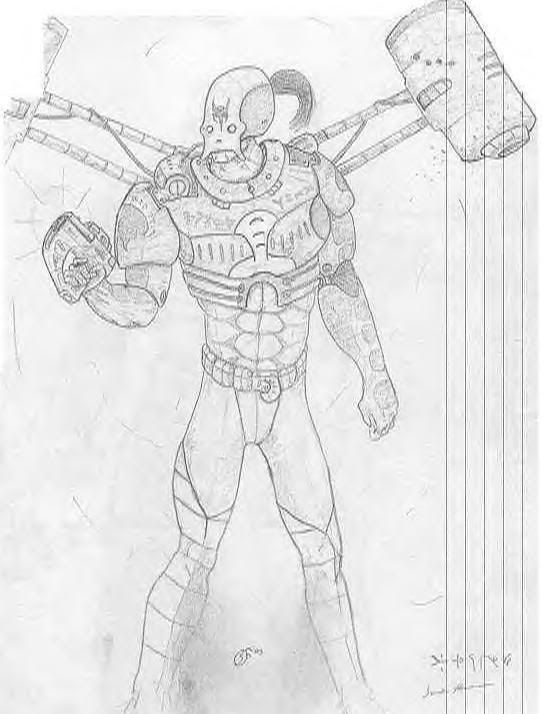 Whisper: The Whisper jets around the battlefield and snipes foes from long distances. His powerful ion rifle can decimate enemy units that do not detect his presence. If he comes under fire he can quickly jet away to evade his assailants. and a drop ship design. All units are delivered onto the battlefield via the scarab
and a hyperion vs. Sector knight sketch. Pray for the knight..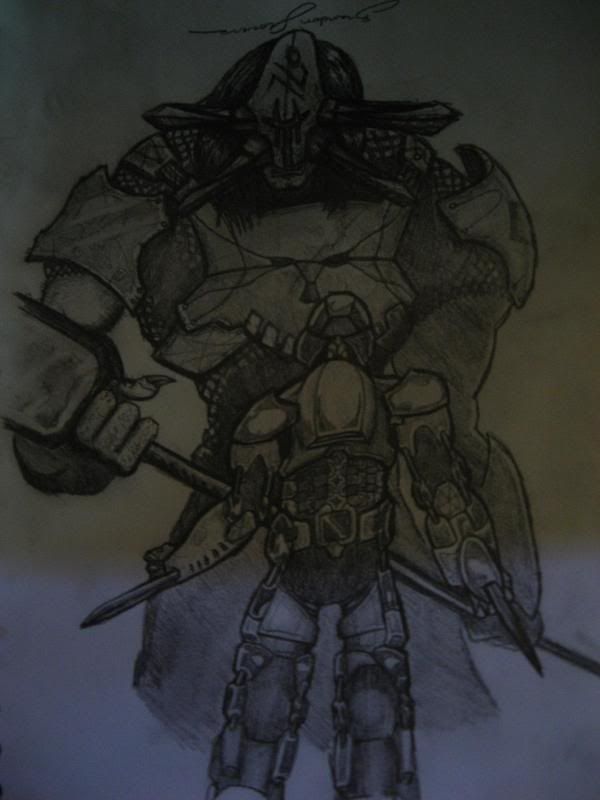 ---
29th January 2007
0 Uploads
#10
11 years ago