Ever wanted to get a better feel when you're dog fighting in Battlefield 1942? Well now you can with this impressive newly released mod!
The mod primarily aims to give you the best seat in the house with a fantastic nose cam for all planes. The mod works in single player or co-op modes and should be used on the v1.61 patch for Battlefield 1942.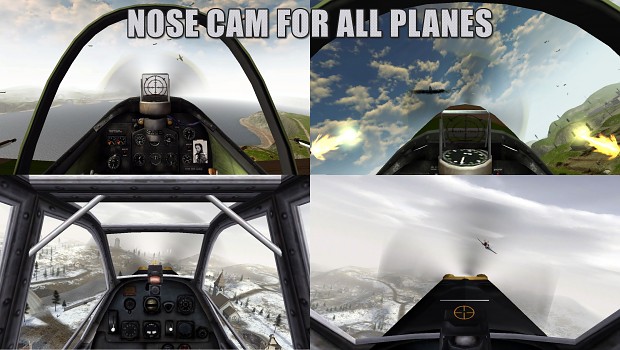 The full changelog consists of:
-Added Nose View for All Planes
-New Plane Textures for some aircrafts
-Added Planes for maps without aircrafts like Omaha Beach and Battle of the Bulge
-Changed Aircrafts Armor and Speed for Advantage / Disadvantages Realism
-Increased Planes Amount in many maps for Battles full of Aircrafts
-Increased Distance Visibility for Aircrafts and Maps Terrain
-Fixed Bf-109 Cockpit Gunsight Position and Bugged Wheels Over the Wings
-Added Third Person Infantry View (Just Press "C" key to change camera views)
-Replaced Engineer Helmets from all factions for Forgotten Hope Mod Pilot Helmets
-Added Hawker Audax Aircraft by Herc for British Army
-Added Map Oahu by resemblesreality with Edited AI Spawnpoints
-Added Map D-Day by Ryham with Planes and Fixed AI Spawnpoints
-Added Free Camera View after being killed for Singleplayer mode (Press keys "W" = Foward / "S" = "Backward" / "A" Left / "D" Right / "Shift" = Slow Movement / "Ctrl" = Fast Movement)
-Fixed Soldiers Face changing Bug (When your face becomes another soldiers face)
You can download the mod here.