This article originated on the original FileFront
Formatting may be lacking as a result. We apologize for this inconvenience. If this article is un-readable please report it so that we may fix it.
Published by Zahaqiel

10 years ago

, last updated

1 year ago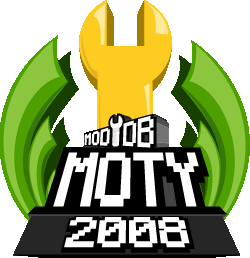 ModDB are very soon to open voting on their yearly Mod of the Year Awards. Starting from January 2nd until January 16th, every mod and indie game on ModDB will have a voting booth for you to help nominate them into the Top 100.
Then from January 17th until February 2nd, they will open voting on the Top 100 mods and games. During this time you'll be able to nominate your top three favourite mods.
Finally, they will announce the winners on February 28th.
ModDB so far have $6000 worth of prizes for the various award winners, with possibly more prizes to be added to that pile. So if you want your favourite Dawn of War mod to get in the running and possibly win some prizes, you may wish to look to see who's hosted over there.
Also, you may just want to look into your favourite mods for other games.
I hope you're all having a wonderful Christmas so far and that the holidays continue to be awesome. ;)
Comments on this Article
There are no comments yet. Be the first!