File Description
Corellian YT2000 Freighter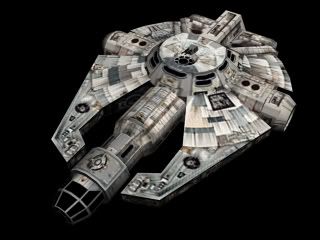 Be advised that this is a 3dmesh and textures only and has not been converted to game playable format.
Readme
YT-2000 Freighter
-----------------
History
-------
The cockpit was situated in the center of the craft, unlike the YT-2000's predecessors. The cockpit also had a different set-up. Instead of having the pilot and co-pilot side by side, the pilot sat in front while the co-pilot was situated behind and raised above the pilot, with no room for any other people in the cockpit. 

Even with all of these changes, the YT-2000 still maintained the traditional YT series saucer design. With the cockpit pod in the center of the ship, docking and maneuvering was made easier as opposed to having to gauge distance to the far side of the ship. 

Additionally, the ship boasted a double laser turret as standard weaponry, due to the more dangerous times in which the ship was built. Rumors abounded that the YT-2000 was originally intended to be the "next generation" model of transports for Corellian Engineering Corporation; however, industrial espionage forced them to release the ship before the design was finalized lest they were beaten to the punch by a competitor. 

It was also rumored that the engineers at CEC had trouble convincing the Imperial Regulatory Commission that the YT-2000 was a civilian ship, as the YT-2000 was heavily armed and armored and yet was amazingly agile for a craft of its size.

Mesh Details
------------

Poly Count:	1642 polys
Built Time:	Aprox 7 hours
Texture Set:	2 low detail (256*256) Truevision tarGA based image files.

Credits
-------
- Original Mesh and textures created for Star Wars Alliance game.
- This scratch rebuilt mesh by Major A Payne. Original model used as complete reference with additional corrections aquired from 2d orthorgraphical image done by Lucas (Scifi-Meshes forum registered member). Textures from original version reapplied to this model.

Disclaimer
----------
You download this model and its associated texture files with the following understanding:
1) That you will not distribute any part of this zip in any capacity for any means of profit.
2) That you will refrain from editing any part of the mesh and/or textures without permission from the original creator of this work.
3) Any image usage or reconversions/additional usage will carry the above credits.

If you are agreeable to these points the feel free to use this. If not then you are politely asked to remove it from your pc.

Contact
-------
In the event of any necessary contact then please use the following methods:
- EMAIL: [email protected]
- ICQ: UIN60839084

Thankyou for downloading this release.

Major A Payne
Comments on this File
There are no comments yet. Be the first!