File Description
Corellian YT2400 Freighter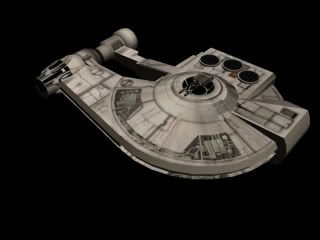 Be advised that this is a 3dmesh and textures only and has not been converted to game playable format.
Whilst this models textures are of medium resolution (512*512 pixels), they may not be 100% accurate.
Readme
YT-2400 Freighter
-----------------
History
-------
The YT-2400 light freighter was a YT series light freighter produced by Corellian Engineering Corporation similar to the YT-1300. Dash Rendar's Outrider was a heavily modified YT-2400 freighter, and perhaps the most famous use of the ship amongst fringers. 

Mesh Details
------------

Poly Count:	2854 polys
Built Time:	Aprox 9 hours
Texture Set:	2 Medium detail (512*512) Truevision tarGA based image files.

Credits
-------
- Original Mesh and textures created by Sebastian "Mojo" Hirsch (released through Scifi3d.com (http://www.scifi3d.com/details.asp?intGenreID=10&intCatID=31&key=249))
- This low poly mesh recreated by Major A Payne with above model used as full reference material and textures created using renders of the above model.

Disclaimer
----------
You download this model and its associated texture files with the following understanding:
1) That you will not distribute any part of this zip in any capacity for any means of profit.
2) That you will refrain from editing any part of the mesh and/or textures without permission from the original creator of this work.
3) Any image usage or reconversions/additional usage will carry the above credits.

If you are agreeable to these points the feel free to use this. If not then you are politely asked to remove it from your pc.

Contact
-------
In the event of any necessary contact then please use the following methods:
- EMAIL: [email protected]
- ICQ: UIN60839084

Thankyou for downloading this release.

Major A Payne
Comments on this File
There are no comments yet. Be the first!