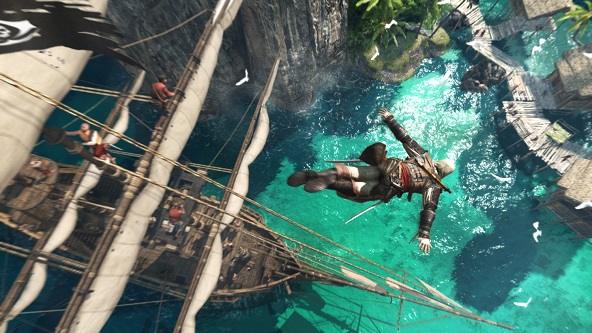 Strange Mayan symbols can be found on many of the islands in Assassin's Creed 4: Black Flag; find them all with the map coordinates listed here. Discovering the standing stones and solving the simple puzzle will earn Kenway a bulletproof set of Mayan armor. Cool, right? Earn it for yourself with the locations below.
Get all the latest video and commentary on the Assassin's Creed 4 game guide with detailed breakdowns for every major mission. For more Easter eggs, collectible locations, and unlockables head over to the AC4: Black Flag cheats list.
---
Mayan Symbol Locations Guide
Work-In-Progress: Check back soon for new updates.
Note: Complete all 16 Mayan symbol puzzles to unlock the Mayan Outfit on Tulum (72, 404)
Symbol #1:
Island: Great Inagua
Map Coordinates: Story-related. Completed during DNA Sequence 4, Memory 1.
Symbol #2:
Island: Cat Island
Map Coordinates: 736, 692
Symbol #2:
Island: Mantanzas
Map Coordinates: 340, 643
Symbol #4:
Island: Cape Bonavista
Map Coordinates: 180, 594
Symbol #5:
Island: Tulum
Map Coordinates: 71, 402
Symbol #6:
Island: Pinos Isle
Map Coordinates: 337, 475
Symbol #7:
Island: Pinos Isle
Map Coordinates: 344, 476
Symbol #8:
Island: Tortuga
Map Coordinates: 875, 379
Symbol #9:
Island: Long Bay
Map Coordinates: 524, 255
Symbol #10:
Island: Isla Providencia
Map Coordinates: 503, 45
Symbol #11:
Island: Isla Providencia
Map Coordinates: 505, 43
Symbol #12:
Island: New Bone
Map Coordinates: 434, 113
Symbol #13:
Island: Misteriosa
Map Coordinates: 302, 120
Symbol #14:
Island: Misteriosa
Map Coordinates: 295, 197
Symbol #15:
Island: Santanillas
Map Coordinates: 214, 244
Symbol #16:
Island: Santanillas
Map Coordinates: 224, 243