Published by Ross Lincoln

8 years ago

, last updated

2 months ago
It's no secret that the best thing to come out of the StarCraft II Beta Test was the steady stream of incredible mods; Inevitably, you're going to want to get your hands dirty and make one (or more) of your own.
Before we go any further, understand that the StarCraft 2 Galaxy Editor isn't easy. Believe us, we wish it weren't true, but it's been a source of ton of complaining in the Blizzard community. Recent Blizzard games have had GUI-heavy, code-free editors that were super simple, especially for casual players. Get that out of your mind, because StarCraft 2′s editor basically splits the difference between GUI and the command line, getting as close as possible to actual coding without requiring you to learn XML.
The result, honestly, is a convoluted mish-mash that can be quite daunting, and you're probably going to spend a lot of frustrated hours getting the hang of things before you'll be doing your own SCII Rick-Roll. We hope, however, that this how-to will demystify the process somewhat, and today we're going to show you how to get started with your very own custom unit.
Difficulty: Beginner
Table Of Contents
Step One: Tools
Step two: Getting Started
Step Three: Choosing Your Unit
Step Four: Modifying The Unit Part One
Step Five: Modifying The Unit Part Two
Step Six: Modifying The Unit Part Three
Step Seven: Your Weapon
Step Eight: Weapon Effects
Step Nine: Equip Weapon
Step Ten: Map Setting
Step Eleven: Test Your Unit
A copy of StarCraft II: Wings of Liberty
Be warned: there have been credible reports that StarCraft 2 causes overheating. So, get a computer that can handle it:
Microsoft Windows
•2.6 GHz Pentium IV or equivalent AMD Athlon processor
•1 GB RAM (1.5 GB required for Windows Vista/Windows 7 users)
•12 GB hard disk space
•128 MB NVIDIA GeForce 6600 GT or ATI Radeon 9800 PRO video card or better
•Windows XP/Windows Vista/Windows 7 (With the latest Service Packs) and DirectX 9.0c.
Mac
•Intel Processor
•2 GB RAM
•DVD drive
•12 GB hard disk space
•NVIDIA GeForce 8600M GT or ATI Radeon X1600 or better
•Mac OS X 10.5.8, 10.6.2 or newer
We assume your computer's up to scratch. So let's get started.
In our previous How-To, we showed you the very basics on making a Custom Map. So start by bringing up your map in the StarCraft 2 editor. (Once again, you'll most likely find the editor at C:Program FilesStarcraft). Now that you've opened your map, bring up the Data Editor by selecting "Data" from the Modules list (or F7).

Now, you've brought the Data Editor window up. Here, make sure that you've selected "Data Type: Units" and "Data Source: All Data", and in the object list below the Data Source drop down, choose the unit you intend to modify. If you follow these instructions, you'll be able to do a basic customization of any available unit, but we chose the Marauder.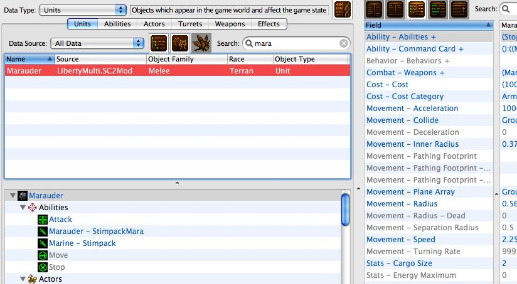 Now that you've selected the unit you're going to customize, you'll need to create a space for the final version. Right click anywhere in the Object field, and select add new object:

This will generate the following window: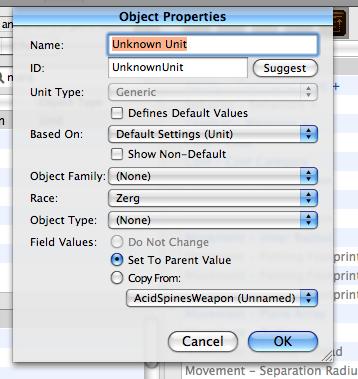 Now, make sure to take the following actions:
* Name your object to distinguish it from the original – we went with Custommarauder.
* Click the "suggest button to generate "Custommarauder" as the object ID.
* Leave "Based On" at default setting.
* Change Object Family to "unit".
* Change Race to "Terran".
* Under Field Values, copy from Marauder.
All done? Click OK! Now, if you've done everything right, you should be able to Select Your new Custom Unit from the Units field on your map. Minimize the Data Editor and bring up your map again. Select the Units layer, and to make it easy, choose the race you've selected for your unit to narrow your choices. In addition to the standard SC2 unit icons, you should see a new, static, bright green, generic creature icon. Hover over it to be sure. If you see your new unit, you know you've succeeded.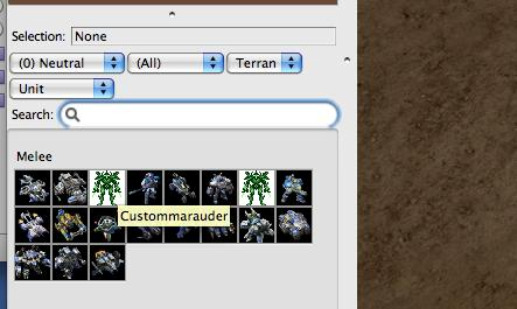 Not so fast though; we're not finished yet. You still have some work to do before you'll be able to drop him onto the battlefield. Leave your map and once again, bring up the Data Editor. Choose the "Actors" Data type, and search for the unit you customized – NOT your custom unit, mind you, just the unit you based it on, the Marauder. Right click on the unit and select "Duplicate".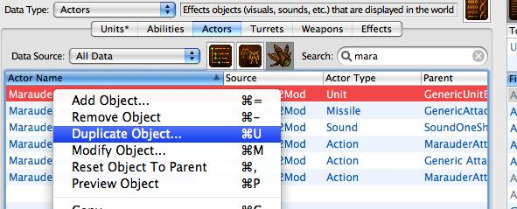 This will bring up another window, "Duplicate Objects", like so: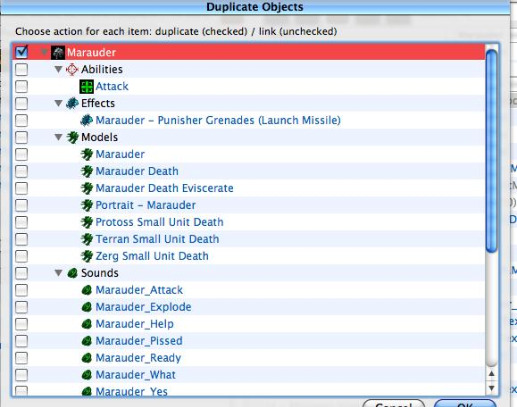 Check every single box in the window, and click OK. Now you'll see "Marauder Copy" in the Objects list. Click it once to highlight it, and then look to the right hand side of the screen. Next to "Unit Name", you'll see the object's name, "Marauder Copy". We'll need to change that, so right click over "Marauder Copy", and select "Modify Value".

You'll be able to scroll through a drop down. Find your custom unit, Custommarauder, and choose it. You've now associated your duplicate Marauder with your Custom Unit.
NOTE: It is absolutely vital that take the following steps exactly. If you do not follow these instructions, when you try to add your Custom Unit you'll see nothing but an annoying black blob.
First, make sure you're still under "Data Type: Actors". Your copied unit – Marauder Copy – should still be highlighted. Look to the right and, under the "Field" heading, you'll see four different selections you will need to chage:
* Art – Model
* Art – Model (Build)
* Art – Model (placement)
* Art – Model (Portrait)
Since you associated your Marauder Copy with your Custom Unit, they should all say either Custommarauder, or Marauder Copy. It doesn't matter which, because all four need to be re-associated with the original unit. Right click on each one, and choose "Modify Value".

You're going to change each value to "Marauder", so that when you're done, it'll look like this:

Congratulations! Not only will your unit will now appear in your map normally, you've saved yourself hours of WHAT THE HELL headaches trying to figure out why you see nothing but a black blob.
Hold up hero, you're not done yet. Sure, you've managed to create a custom unit, but aside from the name, you haven't actually customized anything yet. We'll keep it simple and practical, and focus on the weapon. Still in the Data Editor? Good. Choose Data Type: Weapons. Depending on the unit you chose, you'll see one or more weapons. The Marauder is easy with only one, his trusty Punisher Grenades.

Right click anywhere in the objects field, and select to create a new object. In the window that pops up, do the following:
* Give it a name you can remember. We went with "Custommarauderweapon".
* Choose Race: Terran.
* Under "Field Values", copy from the weapon you want to Modify. Theoretically, you can use this to give your unit any weapon in the game, but we'll stick with what his momma gave him; if you selected Marauder, copy from "Marauder Punisher Grenades", and click OK. You should now see this:

Now you'll want to highlight your new weapon, and look under the "Fields" to your right. See the "Period" slot? Right click on whatever that number is, and modify the value to something lower – half of whatever you see is a good rule of thumb. Click OK.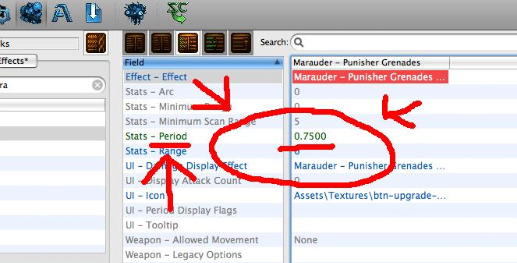 Now we're ready to give the weapon some (visual) oomph.
Now, it's time to muck about with the Effects. Start by changing the Data Type to "effects".

Now, in the object list do what you've already done several times before, and right click to create a new object. You'll need to take the following action:
* Name the object after your custom weapon ("Custommarauderweapon").
* Set the ID to the name of the custom unit to keep things straight ("Custommarauder")
* Effect Type: Damage
* Race: Terran
Just like this: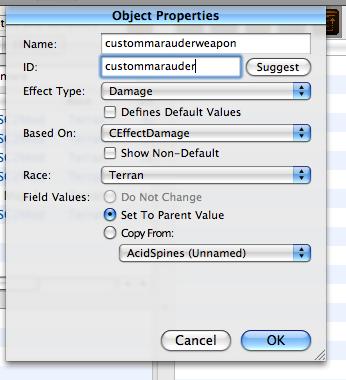 Now click ok, ok?
At this moment, you'll want to change two of the values under the "Fields" tab. The number is arbitrary – we're going by advice gleaned from other players – so you'll probably want to experiment to see what the other values can do. (See the additional resources below for more on that.) For now, ignore them and concentrate on "Combat – Amount", and "Effect – Kind".

"Kind" refers to the type of weapon you want. They're all self explanatory; if you've selected Marauder, then the Punisher Grenades are your weapon. Select "Ranged". Amount, of course, refers to HOW AWESOME POWERFUL your weapon will be. Go ahead; go crazy. Pick a number. Any number.

Now, leave "Effects",and go back to "Weapon". Now, Select Custommarauderweapon, and look over to your right, to the "Field" section. You're going to change two values – for "Effect", and for "Damage Display Effect". Change both to your customized weapon's name ("custommarauderweapon").
We're not finished yet. We have to take one more step to set this up the bomb.
Go back to "Data Type – Unit", and look over to your right, to where it says "Combat – Weapons" -click the assigned value.

In the window that pops up, from the drop-down menu, select your customized weapon's name ("custommarauderweapon") and click OK.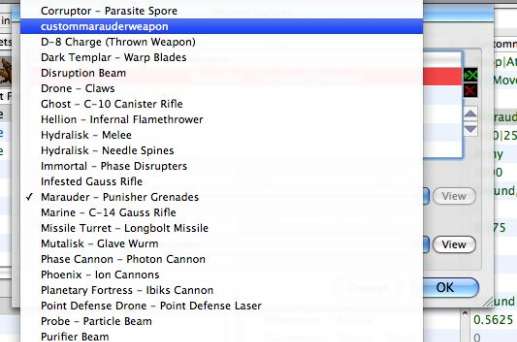 Voila! Your new weapon is equipped. There's just one more step before you can test your unit out.
Go back to your map and select the Triggers module.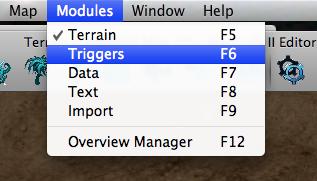 In the window that pops up, highlight the only option you'll see: "Melee Initialization". This will bring up a couple of menu fields on your right hand side. You're only going to make one change. Highlight "Set default melee options for all players", and delete it (you may need to manually select "Cut" from the edit menu).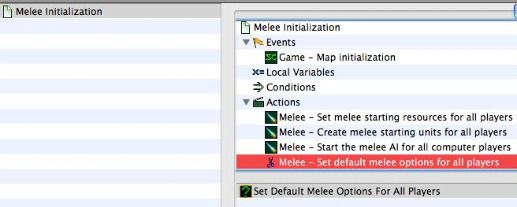 If you don't take this step, you're going to see message informing you that you "no longer [have] any units" the second you launch your test map. TEST FAIL, in other words. But that little issue has been handily averted, and it's time to see what your new custom unit can do.
Finally, time for some carnage. Head back to your map, and if you did everything correctly, you'll be able to place some of your custom units into the map with no problem. Go ahead and put a few in. And give them some enemies to kill while you're at it.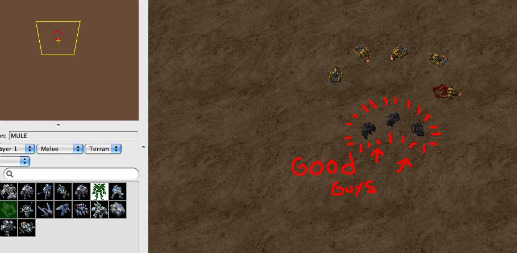 Ready? Then hit the test map button to begin finding out how carnagey your new carnage delivery system is.

And now? Murder.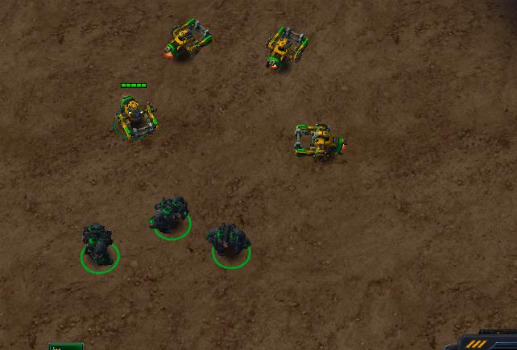 So innocent. So unaware of what's coming.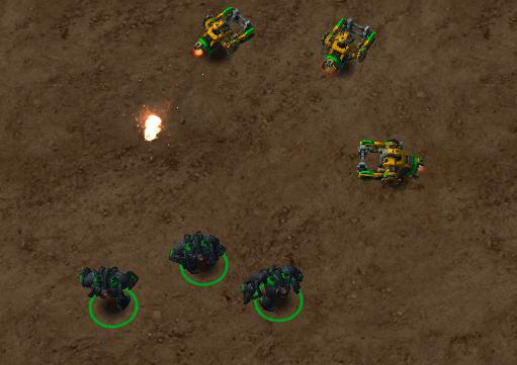 ZAP!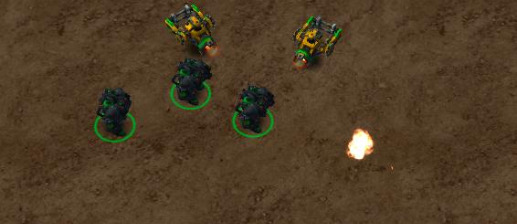 ZAP 2: ZAP HARDER.

Now it's time for some slow singing and flower bringing.
Garden of Auir has posted a nice run-down of how-tos; We found this page in particular to be very, very helpful.
There's also a vast array of Youtube guides.
Comments on this Article
There are no comments yet. Be the first!