Well, you'll need to transfer your saves and stored files. This guide will walk you through that transfer process.
Difficulty:Basic
Tools:
USB Thumb Drive (8 or 16GB recommended)
Microsoft Xbox 360 Hard Drive Transfer Kit (Optional)
Computer with access to Xbox.com for License Transfer
Time to Install: 15-60 minutes Table of Contents
The redesign of the Xbox 360 Slim means that you can't simply buy a new 360 and slap your old hard drive on it any longer. Now, to transfer old xbox 360 HDD data to a new xbox 360 slim, including your save games and downloaded files you'll need to transfer them to the new system.
The method you choose to transfer your data between two Xbox 360′s depends mostly on your patience and willingness to give Microsoft $15 of your money for a "single use" cable. Luckily, thanks to a past update, the Xbox 360 supports up to 16Gb USB removable storage units. Unless you want to move a huge amount of data or don't own a USB thumb drive, you can move your data for free quickly between consoles.
Note: Xbox Original save games on your Xbox 360 cannot be moved between consoles using the USB method. Also the Xbox 360 Slim lacks a port for the now retired Xbox 360 Memory Module.
If you are really sold on moving all your data at once you can order the Microsoft Xbox 360 Hard Drive Transfer Kit online or at a local game store.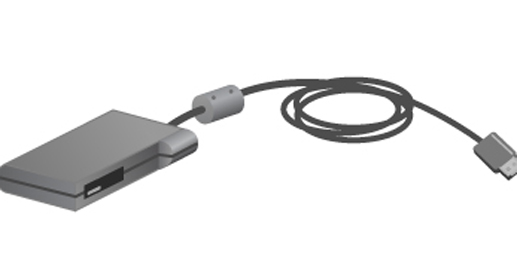 Step 2: Transferring Data Using the Xbox 360 Hard Drive Transfer Kit
So, you've taken the quick route and given Microsoft some cash for a fancy cable to transfer all your existing hard drive content to your new Xbox 360 Slim.
Great! Now all you need to do is follow these simple steps and you'll be back up and running on yor new system.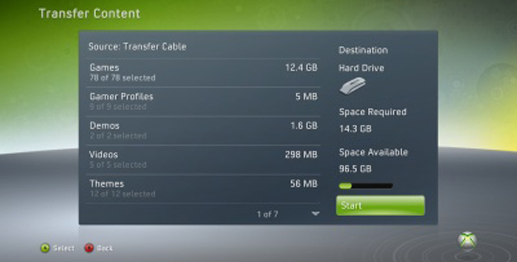 Remove your hard drive from your old Xbox 360
Connect the hard drive to the end of the Hard Drive Transfer cable
Plug the other end of the cable into a USB port on your Xbox 360 Slim
Turn on Your New Xbox 360 – You will be greeted by a notice that the system detects a transfer cable is connected.
Choose "Yes, Transfer to the Console" and select "Start" then the process will begin
Wait 15 minutes to several hours for your files to transfer at USB speed!
The process will take a varying amount of time depending on how much content you have to move. While it's working you might want to go out and grab a book. Once it completes, you should Transfer Your Licenses to make the new console capable of playing all your licensed content without requiring you to be logged into your Xbox Live! profile online.
Step 3: Transferring Data Using a USB Thumb drive
If you already used the Xbox 360 Hard Drive Transfer Kit to move your data move on to step 4. This is redundant!
The second method of transferring old xbox 360 HDD data to a new Xbox 360 slim console may be more time-consuming. If you have only a little data (or are willing to download previous purchased content on the new Xbox 360 from Xbox Live!) you can save a lot of time using a USB thumb drive.
If you can connect both systems to the same TV and switch between inputs it will make this process a lot faster. Both consoles need to work for this method to succeed. Before using your USB thumb drive you will need to set it up for the Xbox 360.
Head to the memory area in system settings.
Select your USB Device
Choose from Configure Now (Format and Configure the Full Device), or Customize (you can choose how much memory you want configured for Xbox360 from the free space on the device.)
Save game files and profile information move easily onto and off of USB media. Here's the general process:
Insert the USB thumb drive into the old Xbox 360.
Navigate to "System Settings – > Memory".
Choose your Hard Drive.
Select the files you want to transfer and copy them to the USB thumb drive.
Repeat this process until all your files are moved from the old Xbox to the New Xbox.
Once you have moved all your save games or all you can fit on your thumb drive, unplug the USB device and insert it into the new Xbox 360. Repeat the reverse of the above directions to copy the USB content onto the Xbox 360 HDD.
When done, you'll want to transfer your licences and Xbox Live! profile to your new system. You can find directions on how to do this below.
Step 4: Transferring Your Licenses and Live! Profile
To play your purchased games and content, you need to be online using the same Live! profile they were purchased under. You can avoid this hassle by transferring the DRM licenses to your new console. Microsoft makes this process a little cumbersome but it can be done. If you choose not to transfer the licenses you can still use all your content, but you will be denied if another profile on the console tries to use it.
Transferring the licenses requires you access Xbox.com with a computer to "consolidate" your license files and then push them out to your new Xbox 360. This can be done once every 12 months unless your console is repaired or refurbished by Microsoft. Here is a link to the Xbox 360 Content License Transfer instructions on Xbox.com.
Closing
Moving up from an old system to a new one is an exciting prospect. It's not hard to move your gaming history with you. Microsoft doesn't even make it difficult. While we discussed the transfer old 360 HDD data to a new Xbox 360 Slim, these instructions work just as well for transfer between an old hard drive and a larger upgraded add-on or old-style console.